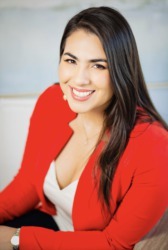 Dayana Ruiz is a passionate and dedicated REALTOR® with an excellent record of outstanding service to each and every client. She takes pride in cultivating relationships which result in top-notch service and client satisfaction. Her conviction for serving and guiding families through their real estate strategies is very well connected to her love for people and service.
With passion for her community, Dayana is a proud supporter of her local hispanic organizations and takes pride in being able to witness and take part in the growth in the area, as well as the opportunities and quality of life it provides.
Her life experience as a Military spouse allows her to provide value to relocating military families, by being able to relate and understand the needs and wants of her clients.
When she's not selling Real Estate, she enjoys hiking, horseback riding, and quality time with her family.